But onion rings and a cool celery and blue cheese salad certainly doesn't hurt. We got the onions super crunchy in the oven, no deep-frying necessary. Get those started, mix up the salad, then sear the steak. Cook, relax and enjoy!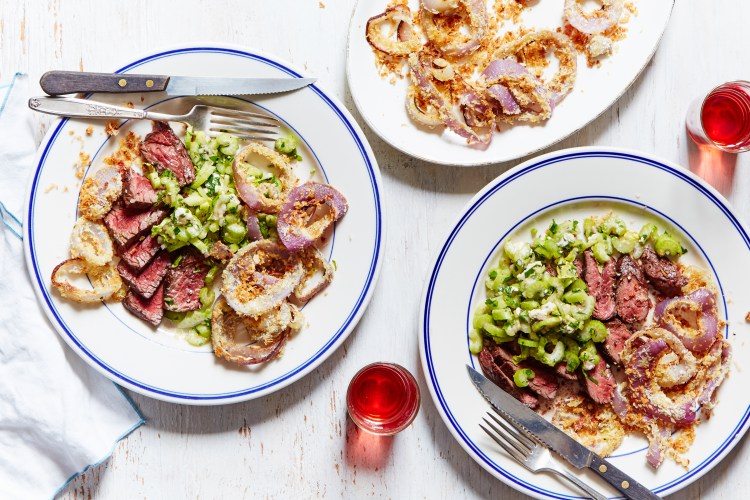 Ingredients:
1 medium red onion
¾ cup panko
1 small shallot
1 Tbsp red wine vinegar
8 oz celery
fresh parsley
1½ oz blue cheese
12 oz hanger steak
¼ cup all-purpose flour
1 large egg
olive oil
coarse salt
freshly ground black pepper
Equipment:
rimmed baking sheet
large skillet
Recipe steps:
Prepare breading
Preheat oven to 425°F. Place flour in a medium bowl and season with salt and pepper. Beat egg with 1 tablespoon oil in a separate medium bowl. Place panko in a shallow baking dish.

Bread onion rings
Peel onion and slice ½-inch thick. Separate slices into rings, add to flour and toss to coat. Shake off excess flour and transfer onion to eggs; toss to coat. Add onion to panko and toss gently to coat: transfer to a lightly oiled baking sheet.

Bake onion rings
Drizzle with 2 tablespoons oil and season with salt. Bake, flipping halfway through, until golden brown and crunchy, 12–15 minutes.

Make salad
Meanwhile, peel and finely chop shallot. Whisk shallot, 1 tablespoon vinegar, and 2 tablespoon oil in a medium bowl and season with salt and pepper. Thinly slice celery and add to bowl. Chop parsley stems and leaves and add to celery. Crumble blue cheese, add to bowl and toss to combine.

Brown steak
Cut steak into 2 pieces. Heat 1 tablespoon oil in a large skillet over medium-high heat. Season steak all over with salt and pepper and cook, turning occasionally, until deeply browned on all sides, 5–7 minutes. Let rest 5 minutes.

Serve
Slice steak against the grain. Serve steak topped with celery salad with onion rings alongside. Enjoy!