Red Lentil Curry Soup with Yogurt and Cashews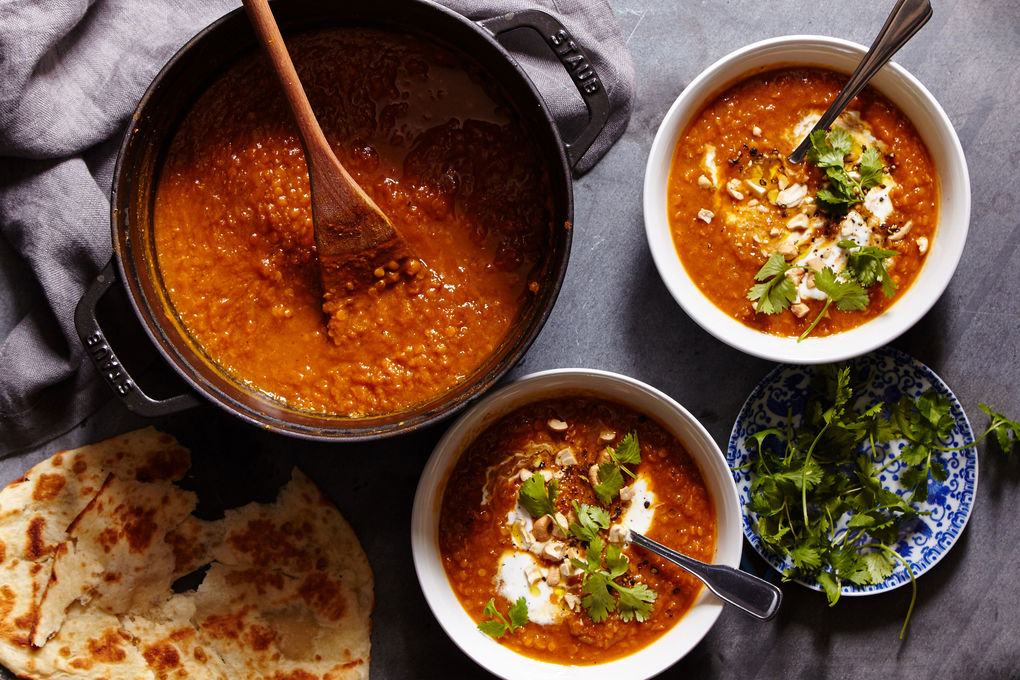 As winter approaches, we're simmering up some warmly spiced soups like it was our job. Oh wait, it IS our job. For this one we combined a can of pumpkin, curry powder, onion, and ginger to make a creamy base for tender red lentils. A dollop of yogurt and some roasted salted cashews make it taste great and look pretty while Hot Bread Kitchen's naan is the perfect vehicle for scraping the bottom of the bowl. Cook, relax and enjoy!
Restorative Chicken Soup with Sweet Potato, Collards & Quinoa
This soup is chock full of hearty ingredients like collard greens, chicken, and sweet potatoes that tenderize as they poach in broth, resulting in a delicate texture. It's also packed with protein-rich red quinoa and almond butter. Make sure to sip any remaining broth: garlic, ginger, quinoa, leafy greens and sweet potato are great immunity boosters. Cook, relax, and enjoy!
Carrot Soup with Goat Cheese and Quinoa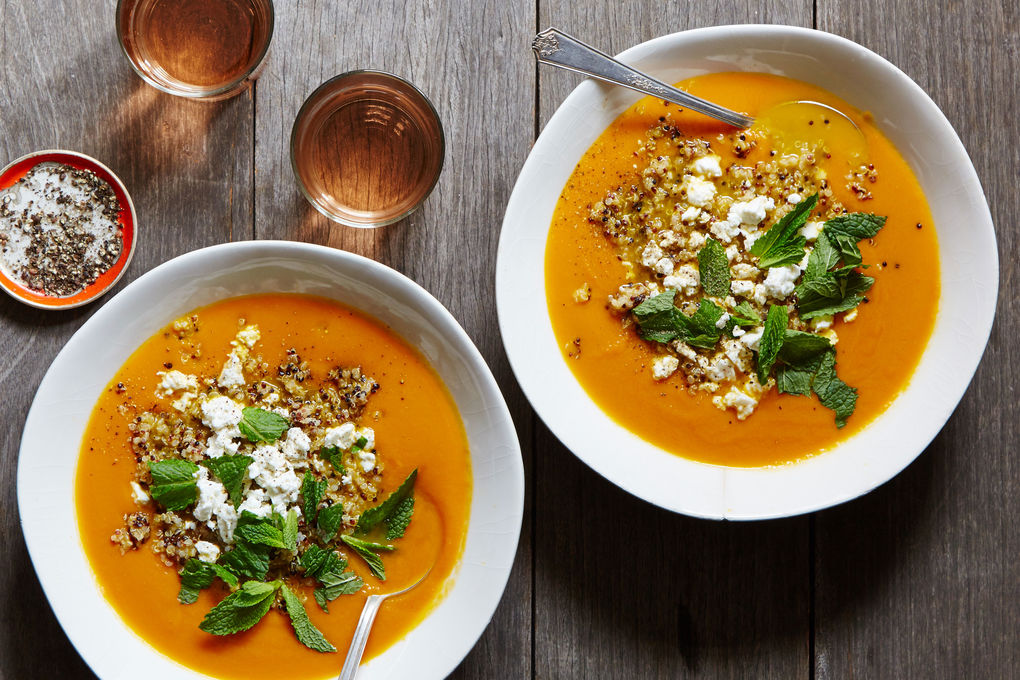 Winter time is here and soups reign supreme for cold-weather dinner! Gorgeous, satisfying, and easy—the proof is in the pudding…or the soup, in this case. Carrots are a rich source of vitamin A and C and their sweetness pairs well with the cumin, paprika, fresh mint, and goat cheese crumbled on top. You can choose how much quinoa you'd like to spoon into your bowl for a heartier meal. Cook, relax, and enjoy!
Lentil & Cauliflower Soup with Cheesy Topping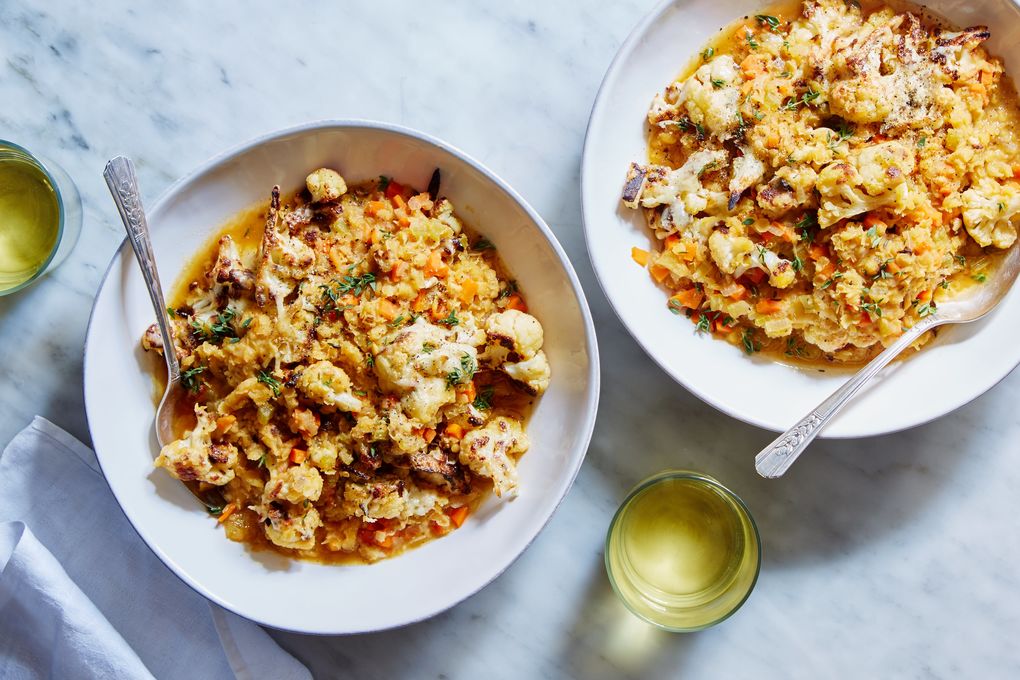 Usually it doesn't require much more than "cheesy topping" to get our attention, but creamy lentils and tender roasted cauliflower in this soup has us coming back for spoonful after spoonful. Fresh herbs are always the secret to taking a dish to another level, and earthy, fragrant thyme definitely does the trick. Cook, relax, and enjoy!
Chickpea & Red Pepper Soup with Cheesy Pull-Apart Rolls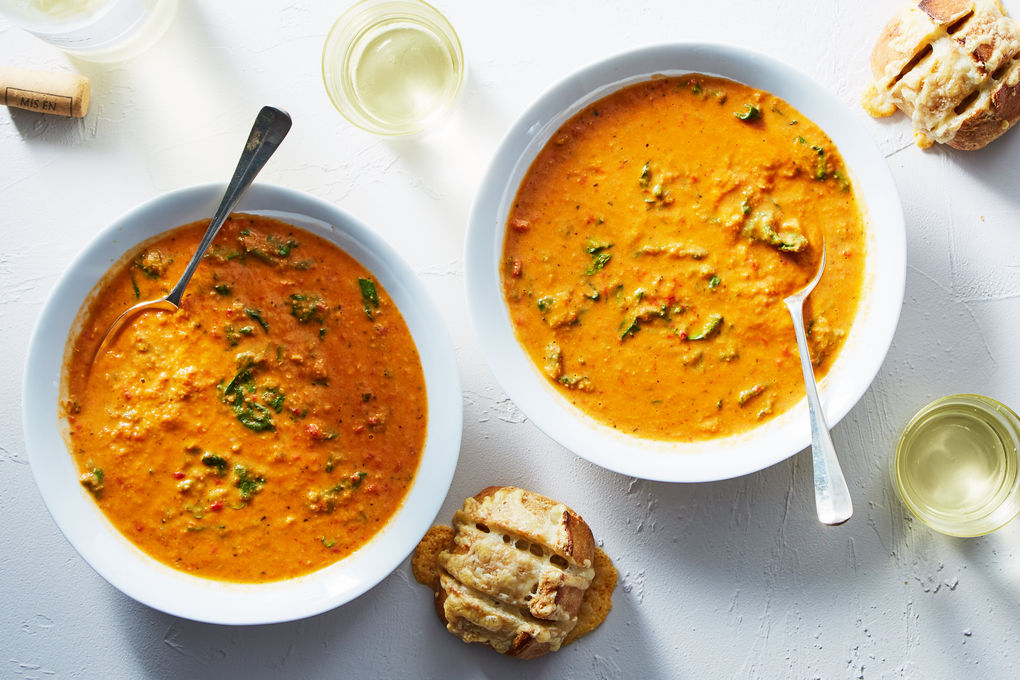 Rich and creamy, this chickpea and roasted pepper soup comes together in minutes, though it tastes like it cooked for hours. Don't fret if you don't have a blender—this soup is perfectly yummy when left with a bit of toothsome texture. Definitely don't underestimate the rolls, they're the stars of this dish; sliced and stuffed with cheese, they are like Hasselback potatoes in bread form. Cook, relax, and enjoy!
Tomato Soup with Broccoli Grilled Cheese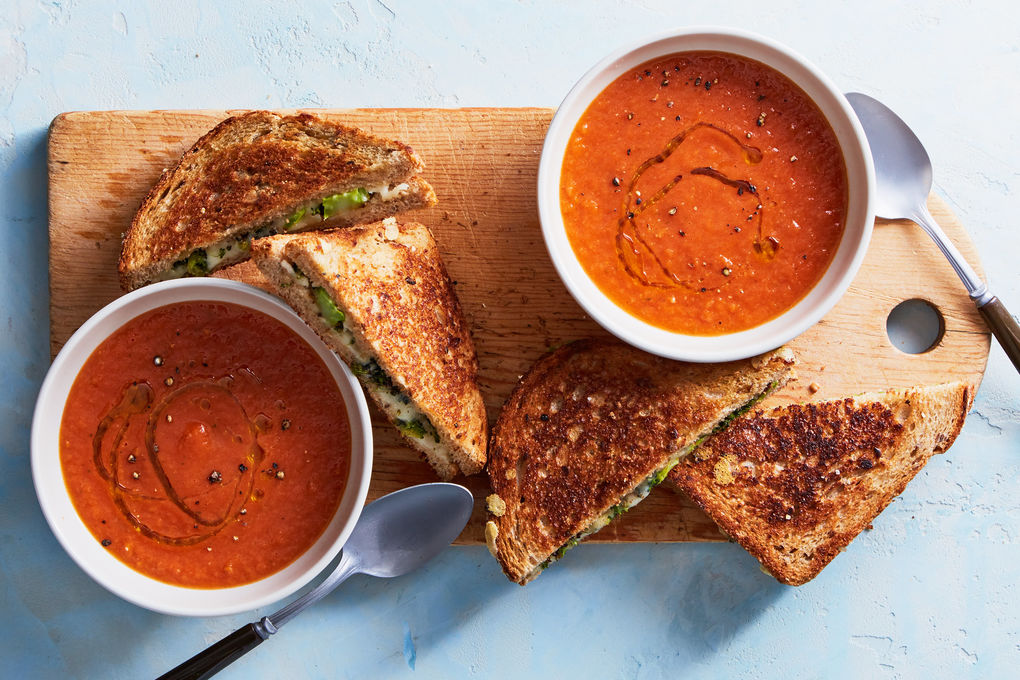 There are few things better than grilled cheese and tomato soup. Except, maybe, this grilled cheese with a secret layer of roasted crispy broccoli tucked inside. Serve the soup poured right over top of the sandwiches or serve them alongside for dipping. Cook, relax and enjoy!
Spicy Chicken Tortilla Soup with Cilantro and Corn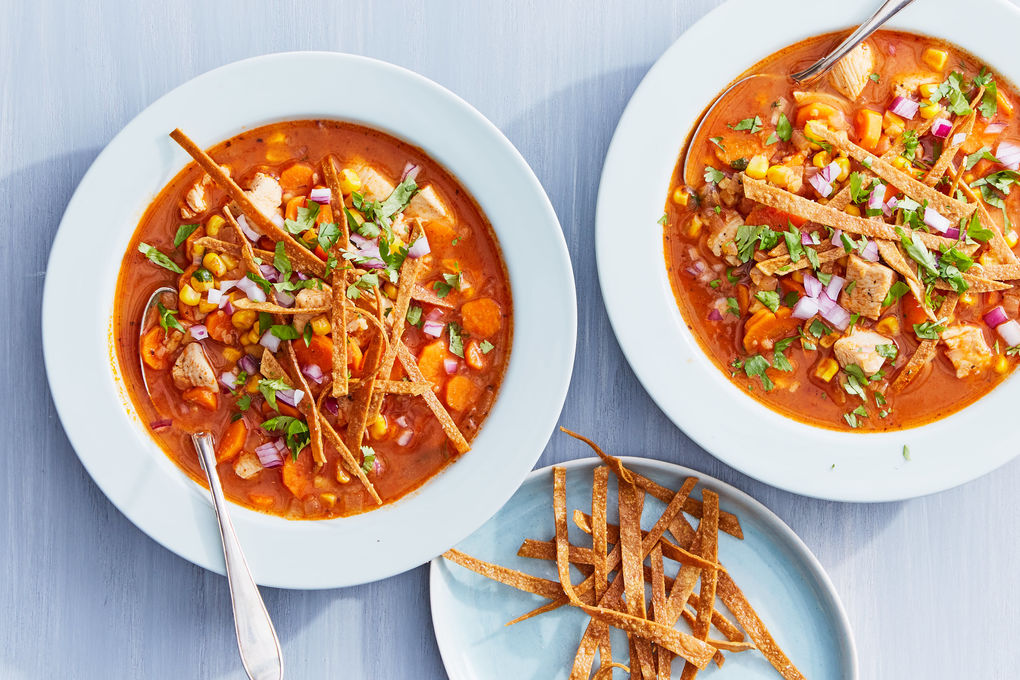 Chicken soup is always the cure for whatever ails you, and this spicy chicken tortilla soup is definitely the antidote to the midweek blues! Tender pieces of chicken are simmered in a deeply flavored broth, that delivers a nice bit of heat from the Mexican chili spice blend. The real kicker is the crispy tortilla strips piled on top for texture. This soup is sure to liven up the night. Cook, relax, and enjoy!